Benvenuti!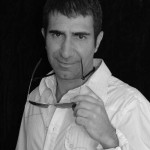 Welcome to my site. I am an Italian-American living in Tampa, Florida that loves to share my passion for the Italian language and culture with others. I truly feel blessed that my parents spoke the language at home while I was growing up. Knowing another language opens up a world of possibility beyond your wildest imagination.  And for that reason I try to help many people with this blog.  And since I am somewhat of a "techie geek", I've been able to figure out how to do this.
I sometimes teach live classes in the Tampa Bay area while donating the proceeds to one of the local charities. I serve on their board of directors, so it is one way I can give back and contribute to an organization that helps better my community by helping at-risk youth. I also run a local Italian meetup group in Tampa and have published a few books regarding Italy:
Please feel free to drop me an email using the contact form or send me a tweet on twitter @addicted2Italy.
I wish you luck on your journey to learning Italian.
In bocca al lupo – Good luck!
Larry Aiello